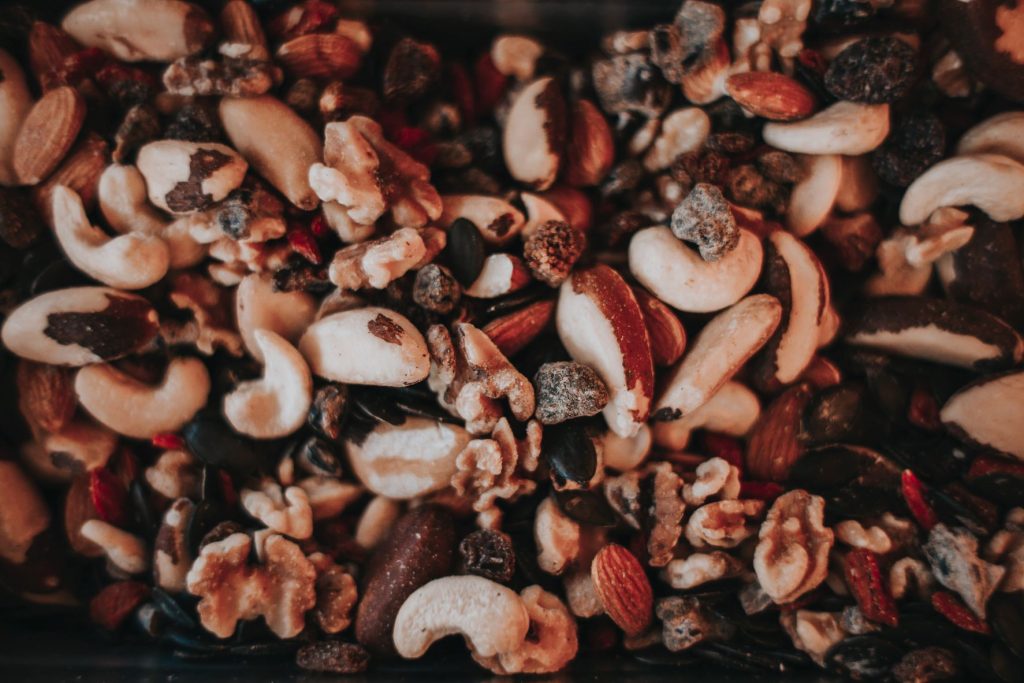 I have been making this Celebration Nut Roast with Lemon Garlic Stuffing for over 20 years. Every couple of years, I try another, however, I always come back to this one as my favourite. It's not a Cranks recipe, but it transports me back to my London days hanging out at Cranks, and before plant-based eating was even a thing.
You can experiment with a variety of nuts and stuffing ingredients – I have taken to adding preserved lemons in mine. It's great hot for a roast lunch or served cold at a picnic or in a nutmeat butty.
The recipe serves 6 people as part of a roast lunch with all of the trimmings.
Celebration Nut Roast with Lemon Garlic Stuffing
Nut Roast
100 g of wholemeal or seeded breadcrumbs
225g of finely ground nuts (hazels, almonds, walnuts, cashews, macadamias etc)
knob of plant-based butter
1 heaped TBSP of flour
150ml of soy milk
150ml of veggie stock
1 tsp of yeast extract or miso paste
1 tsp nutmeg
1 large onion, chopped
S&P
Stuffing
75g wholemeal or seeded breadcrumbs
50g of melted plant-based butter
1/2 of a small onion, grated
1 clove of garlic, crushed
2 TBSP of fresh parsley
Rind of 1 lemon, zested
To Serve
Cranberry sauce
Lemon wedges
Parsley
Cooking Instructions
Turn the oven on to 190c
Grease and line a 1kg loaf tin with greasproof paper, long enough to overhand either end. Grease the paper well.
Make the nutmeat first by sautéing the onion in the butter until soft. Add the flour, stir and cook for 1 minute.
Remove from the heat and gradually stir in the soy milk and stock, stirring continuously to avoid lumps. Return to the heat and bring to the boil, stirring continuously until the sauce has thickened.
Turn down the heat and stir in the yeast extract or miso, nutmeg, S&P.
Add the ground nuts and breadcrumbs to the onion sauce and mix thoroughly to make a stiff but moist nutmeat.
Make the stuffing by combining all of the stuffing ingredients and mix well.
Put half of the nutmeat into the prepared tin and press down firmly. Pile the stuffing on top and press again. Finally put the remaining nutmeat on top and smooth the top.
Bake for 1 hour or until brown and firm.
Invert the roast onto a pretty plate, peel off the greaseproof paper and garnish with parsley and lemon wedges.
Serve with cranberry sauce and plant-based roast veggie trimmings.