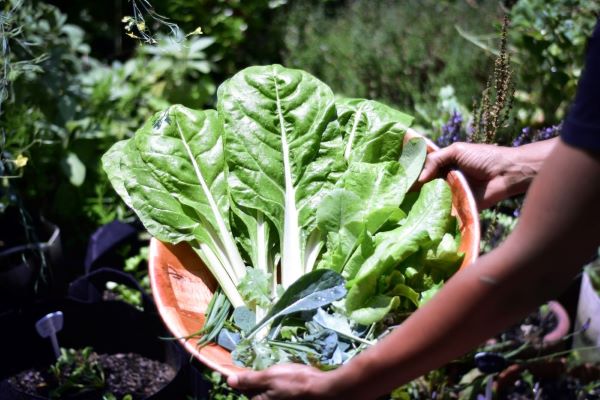 This blog post will provide you with 10 Plant-Based Mood-Boosting Foods to Heal Your Nervous System.
Living with developmental trauma can leave lasting imprints on your physical and emotional, well-being. For many women who have experienced such trauma, the journey towards healing and self-care is of paramount importance. An essential aspect of self-care is the nourishment you provide your body. In this blog, we will explore how incorporating plant-based foods into your diet can significantly impact your mood and help regulate your nervous system, ultimately contributing to better physical, emotional and mental health.
10 Plant-Based Mood-Boosting Foods to Heal Your Nervous System
Dark Leafy Greens
Dark leafy greens such as kale, spinach, and Swiss chard are rich in magnesium, a mineral that plays a vital role in regulating the nervous system. Magnesium helps calm the body's stress response, promoting relaxation and reducing anxiety.
A study in the journal "Neuropharmacology" (2019) found that magnesium can help alleviate symptoms of depression and anxiety.
Avocado
Avocado is an excellent source of healthy fats, including monounsaturated fats that support brain health. These fats help stabilise mood and improve cognitive function, enhancing your mental well-being.
The "American Journal of Clinical Nutrition" (2018) reported that diets rich in monounsaturated fats are associated with a lower risk of depression.
Turmeric
Turmeric contains curcumin, a powerful anti-inflammatory compound. Curcumin has been shown to boost brain-derived neurotrophic factor (BDNF), which is crucial for mood regulation and mental health.
The "Journal of Affective Disorders" (2017) suggested that curcumin can be a valuable adjunct to standard depression treatment.
Berries
Berries such as blueberries, strawberries, and raspberries are packed with antioxidants that protect brain cells from oxidative stress, improve cognition, and enhance mood.
A study published in the "Journal of Nutritional Science" (2013) demonstrated that daily consumption of blueberries improved mood and cognitive performance.
Lentils
Lentils are a fantastic source of plant-based protein and complex carbohydrates. They help stabilise blood sugar levels, providing a steady source of energy and reducing mood swings.
A review in the "Nutritional Neuroscience" journal (2016) highlighted the impact of stable blood sugar levels on mood regulation and overall mental health.
Nuts and Seeds
Nuts and seeds, like walnuts, flaxseeds, and chia seeds, contain omega-3 fatty acids, which are known for their role in supporting brain health. They can alleviate symptoms of anxiety and depression.
The "Journal of Clinical Psychiatry" (2017) revealed that omega-3 has a positive effect on mood and overall mental health.
Legumes
Legumes such as beans and chickpeas are rich in folate, a B-vitamin that plays a crucial role in neurotransmitter production. Adequate folate levels can enhance mood and emotional well-being.
The "Journal of Affective Disorders" in 2017 suggested that a diet rich in legumes is associated with a reduced risk of depressive symptoms. The study highlighted the potential mood-improving properties of legumes, emphasising their role in promoting overall mental well-being.
Cacao
Cacao, the raw form of cocoa, is rich in flavonoids that stimulate the release of endorphins and improve overall mood. Incorporate cacao into your diet through dark chocolate (70% cocoa or higher) and hot cocoa made with non-dairy milk.
A study in "The Journal of Clinical Psychopharmacology" (2013) showed that cacao consumption can improve mood and reduce symptoms of anxiety.
Basil
Basil contains compounds like linalool, known for their anxiety-reducing properties. Incorporating basil into your meals or enjoying it in herbal teas can have a calming effect on your nervous system.
"Food Chemistry" (2014) published a study emphasising the anxiety-reducing effects of basil extract.
Citrus Fruits
Citrus fruits, like oranges and grapefruits, are high in vitamin C, which can help reduce stress and improve mood. Vitamin C supports the production of serotonin, a neurotransmitter associated with happiness and well-being.
A review in "Nutrients" (2019) discussed the role of vitamin C in reducing psychological stress.
A plant-based diet rich in these mood-boosting foods can be a valuable part of your journey towards healing and improving your mental health. Research supports the idea that these foods can regulate blood sugar, calm the nervous system, and enhance mood. Remember that food is just one aspect of self-care; combining it with psychotherapy, mindfulness, and support from friends and family can further contribute to your healing process.
NB* This is a self-help/prevention article and is not intended as a replacement for medical advice if you have ongoing health concerns. If you are struggling with your mood for longer than a couple of weeks, please see your health professional.